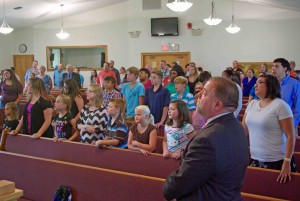 Southland Missionary Baptist Church, Cincinnati, Ohio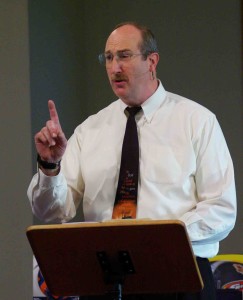 Prayer Time before the service
Dear Praying Friends,
This past week we were at Southland Missionary Baptist Church, in Cincinnati, OH.  The Lord really blessed with 4 precious young people choosing to accept Jesus as their personal Savior (one of them being a teenager).
Many came forward each evening in response to the message; but were not quite ready to make that decision.  We appreciate the leaders being careful with the young people.  Please pray that they will be ready to make this decision soon. Pray also for a lady named, Ruby (who has recently started attending at Southland), that she will see her need of Christ and accept Jesus as her Savior. The visitors contest was exciting – there were a total of 91 visitors for the week.
As many of you know, Rachel will be taking Jaffe Strings as a part of her schooling this year; and we have been praying that God would provide a violin for this class.  While discussing Rachel's classes with a home-schooling mom, her eyes lit-up when she found out that we were in need of a violin.  She "happened" to have an extra violin, and surprised Rachel with it on the last night of Family Crusade.  Praise God for His Faithful provision!
On Sunday, we were at one of our supporting churches, Knobs Baptist Church, in Tower Hill, IL.  When we went full-time in this ministry, our first week of meetings was there at Knobs.  We went to college with Pastor Randy Miller and his wife Mildred, and it is awesome to see their faithfulness over these many years.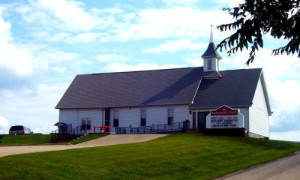 Knobs Baptist Church, Tower Hill, IL
We are now in Waterloo, IA to visit with Tim's family and to celebrate Dad's 90th birthday on this coming Saturday.  We will also visit another one of our supporting churches, Calvary Bible Baptist Church.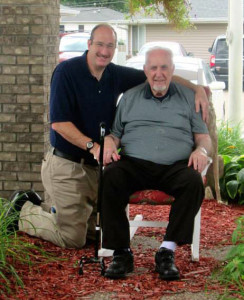 Thanks for your faithful prayers for us!
Reaching Families for Him,
Tim, Susan, and Rachel Vermaas