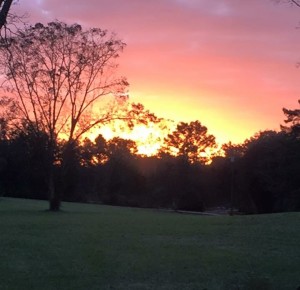 A friend sent us a picture of this morning's sunrise
at Camp Victory, in Samson, AL
Only GOD can paint a sunrise so beautiful!!!
Dear Praying Friends,
We really enjoyed our time at the Couples Retreat this past month at Philadelphia Baptist Church, in Calhoun, GA.  Susan and "Dusty" came for a visit on Saturday morning, and Tim taught the teen Sunday school class (we thoroughly enjoyed our time of ministry and fellowship).
It's been good for us to be home for a little while (especially after being on the road for 3 ½ months). There were a lot of maintenance issues on our truck and trailer that have needed our attention – many of which Tim has been able to take care of since we got home.  We are still in need of:
1 – Replacing the fuel injectors on the truck,
2 – Re-lettering the truck and trailer,
3 – Replacing the carpet inside our trailer with linoleum (our trailer is 10 years old            now and the carpets are worn out).
Susan has also been able to focus-in on Home-school with Rachel – she is in eighth grade and is doing very well.
Seeing the Bigger Picture

It always delights our hearts to see spiritual growth in Rachel. On Wednesday evening, while we were at Calvary Baptist Church, Rachel let each of us know, that while we were ministering (Susan with "Dusty" and Tim preaching) she was praying that God would give us strength and clarity of thought, and that God would work in hearts. What an encouragement to our hearts; she is seeing the bigger picture – the most important part – PRAYER!  She is very conscientious to hand out tracts everywhere we go – she even made a case to hold a small Bible and some tracts (made out of duck tape, of course).  Rachel has also been doing her own personal Bible study on the book of Revelation.  It has really challenged her to be ready for the Lord's return and to tell others about Christ. Please pray for Rachel, that she will continue to grow in her relationship with the Lord, and that she will follow God's leadings in her life.
This Week
On Tuesday morning (10/20/15) Tim did Chapel for the High School, and Wednesday morning we did the Elementary Chapel at Fairview Christian Academy, in Athens TN.  We then drove to Trenton, GA and did the AWANA program at Calvary Baptist Church. Praise God for a young lady who came to accept Christ as her personal Savior!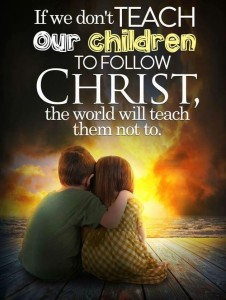 This next week is the Mission's Conference here at Fairview Baptist Church, and we are excited about being a part of the conference this year.
Update on Susan
This past month has also been very busy with over a dozen doctor visits and one E.R. visit for Susan. Pain issues have made it very difficult for her, so please continue to pray that we will find the source of the pain (we are awaiting the results from several tests, and should have them by the first of the week).
A New "Character"
We are also beginning our preparation for next year, and are excited to see what God has in store. We plan to add a new ventriloquist character to our program this next year.  We are asking for help from everyone in two ways:
1 – A name for a girl platypus (that begins with the letter "P"), and
2 – Jokes for a platypus (please throw us a "line" or two or three).

We look forward to hearing from you!
Reaching Families for Him,
Tim, Susan, and Rachel Vermaas